If you are a homeschooler who has not heard of
Our Lifestyle of Learning
, please, go check it out! It is a fairly new online homeschooling community that has been a great encouragement to me. There are so many experienced moms there to answer questions, encourage, and give ideas.
Right now, there are about 30 different groups that you can plug into,,,depending upon your interest, and I just started a summer group - The 90 Day Bible Challenge.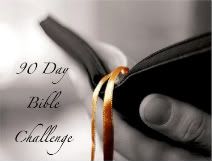 If you would like to read the Bible cover to cover in 90 days, we are starting June 15th and would love to have you join in! I'm looking forward to the fellowship and ACCOUNTABILITY to help me finish this challenge.
There are even reading plans for kids of all ages, so they can join in too. Talk about a summer reading program!
If you aren't a homeschooler, please grab the information in the sidebar and join with me! Don't forget to email me so I can link to you!
Looking forward to growing in Him this summer,